MYAH*
Build, Manage, and Grow Your Myopia & Dry Eye Practice
Introducing MYAH's growth curves
* Not all products, services or offers are approved or offered in every market and products vary from one country to another. Contact your local distributor for country-specific information.
Myopia greatly impacts the quality of life and personal development of children1.
It has never been a better time to join the battle against the global myopia epidemic. MYAH is the perfect instrument for eyecare professionals interested in building, managing, and growing a myopia service.
Did you know that 50% of the world's population2 may be myopic by 2050?
European regions are not an exception.
Introducing MYAH's growth curves
MYAH allows you to monitor the progression of myopia and compare measurements with the growth curves for axial length. The majority of myopic eyes become myopic principally because of excessive axial elongation3.
By using the extensive axial length dataset collected by Erasmus University (Rotterdam, NL)3, or the dataset on Chinese children (Shanghai)4,5, now incorporated into MYAH, you can monitor axial length and then compare the patient's data with normative growth curves.
Corneal Topography including keratoconus screening and pupillometry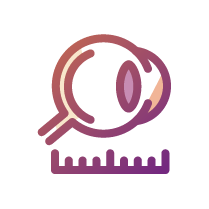 Axial Length measurement by Optical Low Coherence Interferometry
Progression reports for analyzing treatment efficacy
Comprehensive suite of Dry Eye assessment tools
Patient-friendly with rapid capture
Compact, space saving, easy to operate
Building a myopia management practice requires you to educate your patients and their families about the implications of myopia progression, to manage the condition, and to grow your service offering

.
BUILD YOUR MYOPIA MANAGEMENT SERVICE:
MYAH provides the initial baseline to monitor risk, allowing you to start the conversation early with parents.
MANAGE: MONITOR AND COMPARE
MYAH provides essential information to monitor eye elongation and compare axial length measurements with built-in growth curves.
GROW YOUR MYOPIA MANAGEMENT SERVICE: 
Offering axial length screening tests may complement your refraction tests.
MYAH offers all the technologies required to support myopia management: optical biometry, corneal topography and pupillometry – it is a one-time investment. In addition, MYAH is an all-in-one device that offers an evolving platform which provides the tools to add or grow Dry Eye Management.
The Rx and Axial Length charts help you track progression and monitor the effectiveness of intervention. MYAH provides this data so that you can compare changes over time. MYAH uses the same proven technology as the Topcon Aladdin biometer, producing reproducible axial length results.3
Dynamic Pupillometry
Provides clear information on the reaction time and size of the pupil, which may be useful to monitor low dose atropine compliance or to titrate the dose of atropine. The user can examine pupil centration and diameter over a range of light levels, which is useful for Ortho-K and multifocal lens fitting, and is also informative pre and post-refractive surgery.
Contact Lens Fitting
MYAH provides support for contact lens fitting, reducing the number of lenses that need to be trialed on the eye:
Includes a database of conventional RGP and Ortho-K lenses.
Export topography data to 3rd party calculators.
Fluorescein simulation with ability to save and review data.
Dry Eye Assessment Tools
These tools offer non-invasive Tear Break-up Time (NIBUT), Meibomian gland imaging with the area of loss analysis, tear meniscus height analysis, blink analysis, real fluorescein imaging and video acquisition, and video review of anterior corneal aberrations between blinks.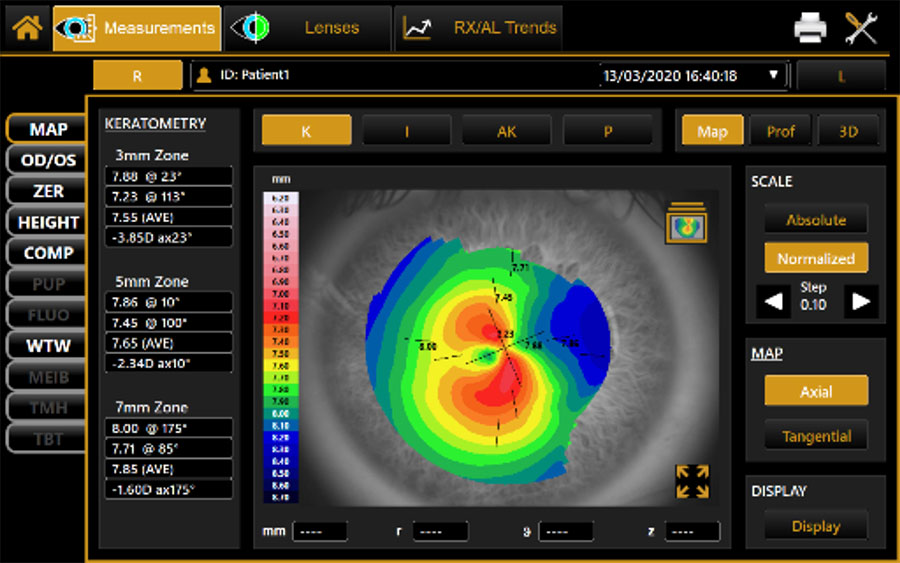 Corneal Topography
MYAH offers another range of tools to analyze the anterior cornea, including topographic maps, 3D maps, comparison maps, height maps, Zernike analysis and keratoconus screening.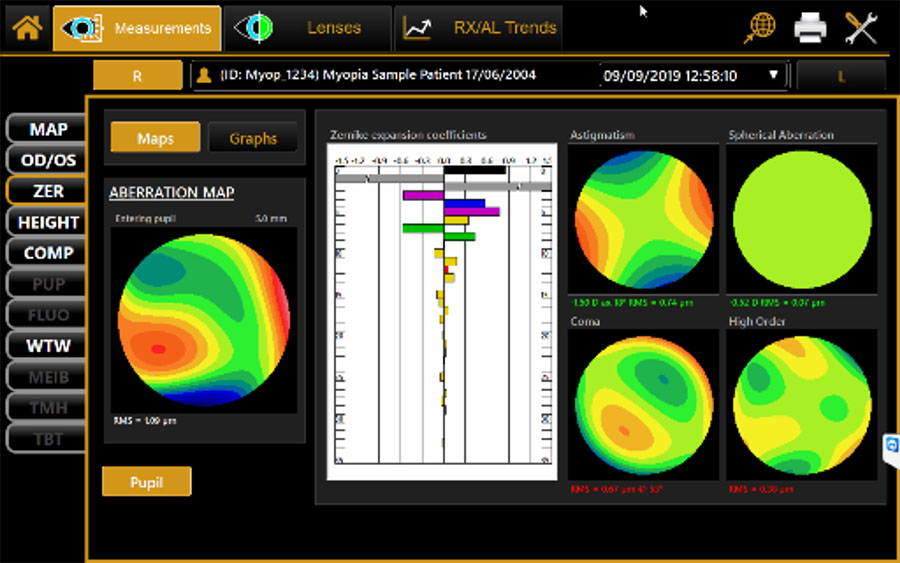 Corneal Aberration Summary
The Zernike expansion coefficient is used to determine which component(s) dominate the aberration structure of the cornea and to what degree.
The anterior corneal Zernike summary consists of 36 polynomials up to the 7th order and provides a clear view of the optical irregularities that can impact the quality of vision.
MYAH makes your practice dynamic and smart.

This versatile instrument, with its intuitive and user-friendly interface, integrates easily into your workflow and offers different options for exporting the results.
Select patient* and acquisition mode.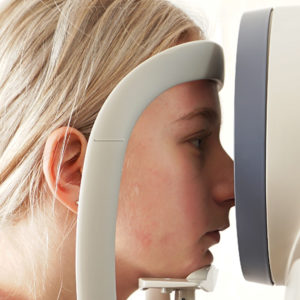 Align patient and adjust automated chinrest.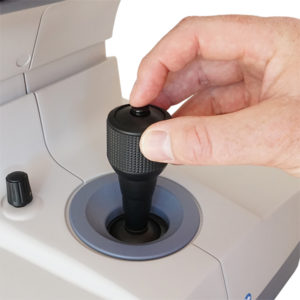 Follow alignment guides to focus and trigger to start.
Review results print/export reports to network or USB.
* Create new patient, select existing patient or select patient from DICOM (search/worklist).
1. Report of the Joint World Health Organization-Brien Holden Vision Institute. Global Scientific Meeting on Myopia. The Impact of myopia and high myopia. University of New South Wales, Sydney, Australia. 16-18 March 2015.
2. Holden, BA, Fricke, TR, Wilson, DA et al. Global prevalence of myopia and high myopia and temporal trends from 2000 through 2050. Ophthalmology. 2016; 123:1036–42. Available from: doi: DOI: 10.1016/j.ophtha.2016.01.006
3. Mandal, P, Berrow, EJ, Naroo SA, et al. Validity and repeatability of the Aladdin ocular biometer. BJO. December 01, 2015. Available from http://dx.doi.org/10.1136/bjophthalmol-2013-304002
4. Courtesy of Prof. Xu Xun, MD
5. He X, Sankaridurg P, Naduvilath T, Wang J, Xiong S, Weng R, Du L, Chen J, Zou H, Xu X. Normative data and percentile curves for axial length and axial length/corneal curvature in Chinese children and adolescents aged 4-18 years. Br J Ophthalmol. 2023 Feb;107(2):167-175
Videos about MYAH with video testimonials and demonstrations
Learn More
MYAH is the perfect instrument for eyecare professionals interested in building, managing, and growing a myopia service. Contact us to learn more.
© 2023 Topcon Healthcare Europe 
Essebaan 11; 2908 LJ Capelle a/d IJssel; P.O.Box 145;
2900 AC Capelle a/d IJssel;
The Netherlands